Welcome, Wednesday Night Market is Back!
Join us every Wednesday from May 3rd to August 9th, 5:00-8:30 pm, at 4th St & Old Courthouse Square in Santa Rosa.
The Market is produced by a non-profit group of local leaders and volunteers who give their time to make it all happen for our community every Wednesday night.
Santa Rosa Wednesday Night Market 2023 Map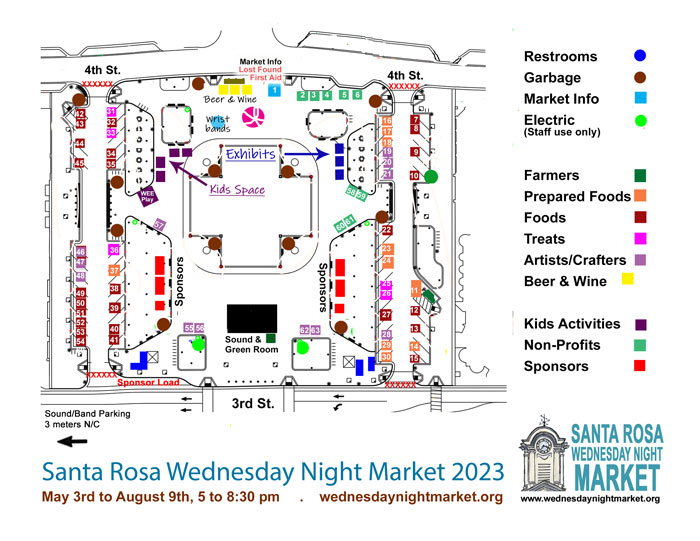 The 2023 Market Season will run every Wednesday from
May 3rd to August 9th from 5:00-8:30 pm.
Interested in becoming a beer sponsor? Visit our Sponsors page to learn more.
Ready to become a sponsor? Download and Submit an application now!
At Courthouse Square Downtown Santa Rosa!
Join Us
Become a vendor
As Santa Rosa's largest street fair, the Wednesday Night Market is proud to bring the highest quality Sonoma County artisans, chefs, and craftsmen to the Market each year. If you are interested in becoming a Vendor at the Wednesday Night Market please complete an application and mail it with Application fee to the address on application.
CHANGE THE GAME — BECOME A SPONSOR
SUPPORT YOUR COMMUNITY FOSTER YOUR BUSINESS
Santa Rosa's Wednesday Night Market is Sonoma County's premier street fair. Local community and visiting tourists come out in big numbers to celebrate the spirit of Sonoma County every Wednesday for 15 weeks. With an average nightly attendance of over 3-5,000 people Wednesday Night Market is the perfect opportunity for businesses to connect with a large, local audience.
Celebrating Community for 34 years on the beautiful Courthouse Square in downtown Santa Rosa, the Wednesday Night Market Association produces this free event for the whole family. Located 50 miles North of San Francisco in Sonoma County Wine Country the Wednesday Night Market brings wine country life together in one place with the finest local street foods, sweet treats, artists, wellness products, community non-profit groups, exhibits and a live concert every Wednesday, May to mid-August. Guests sip local microbrews and wines as they shop and take home something from our amazing variety of local artists and food producers selling chocolates, tie dye, jewelry, candles, teas, cookies, crystals, cheeses, hummus and more. Families have fun in the Kids Space and Exhibitor Area.
Would you like to become a sponsor? Sponsorship applications should be submitted before April 1st to take advantage of early marketing. The deadline for sponsor applications is April 15th to receive all Sponsorship benefits, but please contact us year around if interested in supporting this community event.
THANK YOU 2023 SPONSORS!!!