The 2022 Market Season Ended
August 31, 2022
The 2023 Season will Start
May 3rd, 2023
Location: 4th St & Old Courthouse Square
Santa Rosa
Live Concert Series, Events & Exhibits
Every Wednesday, May 3rd to August 9th, from
5:00-8:30 pm
Hello Entertainers and Artists, The Santa Rosa Wednesday Night Market is excited to be back for 2023. Want to be a Sponsor? Download Your Application Here
Every time we talk about becoming a sponsor we need to mention that sponsors need to get their applications in before March 15 to qualify for early marketing. Finally, the deadline for sponsor applications is April 15th.
Vendors
Food Vendors
PROCESSED Food Vendors
Artists & Vintage VENDORS

Entertainers / Kids Space Vendors

Non-Profit / Community Vendors
Artists/Vintage
Cosima Clothing

Goin Custom Crazy

Hummingbird & Herb

Island Goddess

Jungle Maiden

Little Miss Gypsy

Mornin' Gloria

My Apothekeri

Nova Grillz (past Gypsi Smiles Tooth Jewels)

Peggy's Afghans

Rainbow Iris Designs

Sunbound Ceramics
Food Vendors
Aguachile
Austin's BBQ
Bayside Lemonade
Stand
Boulevard Fruits
California Funnel
Cakes
Cita's Kitchen, LLC
Chava's Pizza
Chocolate Things 707
Gerard's Paella
Gourmet Faire
Jamerikan Jerk
Lemus Tacos
MKM Concessions (Kettle Korn, Snowcones)
World's Best Corn Dogs
Mommy's Yummys
Nellie's Oysters
Pacheco Roasted Corn
Pasta King
Red Rose Catering
The Wurst Restaurant
Yummy Meals aka
Bing & Bao
Processed Food Vendors
Healthy Haven Wellness
Cavaliere's Bakery
Dave's Gourmet Ice Cream
Greek Table
Joe Matos Cheese Co.
Mary's Churros
Nuefeld Farms
Rainy Day Chocolates
The Rim Drip
Sonoma County Cookie Co.
Exhibitors
Dollinu

Rebounderz Trampoline

Robert Ferguson Observatory

Recology

CityWorks Event (City of SR – Public Works)

WaterSmart Expo ( City of SR)

Hydration Station
Non-Profit Booths
American Foundation for Suicide Prevention

CASA of Sonoma County

Center for Well-Being

Ceres Community Project

Climate Center Rapid Responders

County of Sonoma

Santa Rosa City Schools

Soluna Outreach/Zero Waste Sonoma

So Co League of Women Voters

Sonoma County Library

Sonoma County Pride

So Co Registrar of Voters

So Co Vet Connect, Inc.

SRJC

Susan G. Komen

Transcendence Theatre Company

Unitarian Universalist Congregation
Kids/Entertainment
Ken Garr Street Magic
Twizzle the Clown
Wee Play
Shotokan Karate Leadership School
Sonoma County Library – Storytelling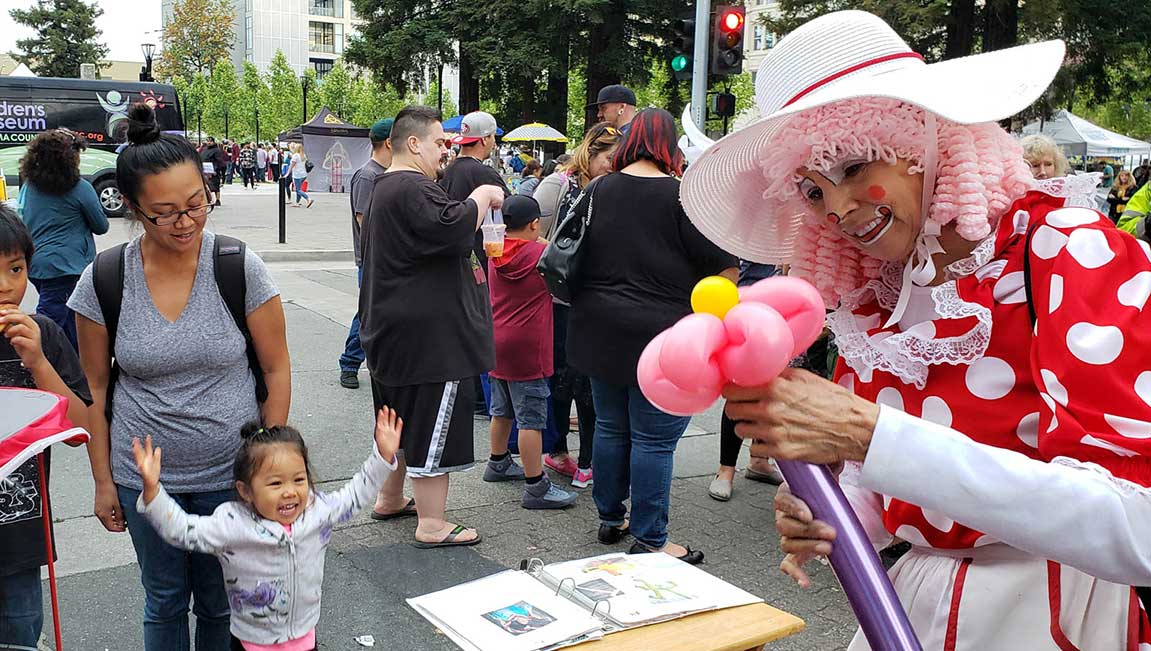 An array of vendors
Each Wednesday night in the Summer we bring together an array of vendors featuring Sonoma County's finest fresh street foods, preserved foods, and local artists and vintage treasures from all over the North Bay.
We continue our traditions with education from local non-profit groups and live music with a fantastic Concert Series line-up and lots of special guest activities for the whole family.